The Adventures of Vitas Povilaitis: Sarasota, Florida, 2002
---
June 20-23, 2002
Hello All!
I went to Sarasota, Florida last weekend to visit my friend Laura, and to go to the nice places there. Here's my travelogue with links to photos I took with my nifty new Nikon Coolpix 2500 digital camera.
Thursday
Flight to Sarasota with a stopover in Charlotte, NC. Security sure was tighter considering the x-ray operators checked my suspicious fabric bag with dice and glass tokens.
I read Isaac Asimov's Foundation, and Foundation & Empire on the plane trips. It reminded me a lot of the movie Star Wars with the planet that's one big city (Tantor/Coruscant) and the ebb and flow of the good guys and bad guys having an advantage over the other.
I met my friend Laura when I arrived. We went out to lunch, then hung out her apartment. (For less than I pay in rent, she has a bigger apartment in Florida. Where's the justice?) She has a cute little kitten that was very energetic -- always chasing things around -- stalking and attacking anything that moves. -- Even my ears when I was sleeping.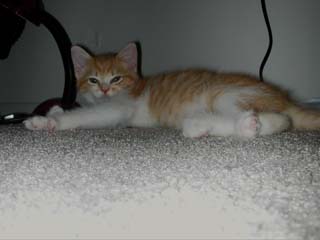 I designed a board game for my dear friend's daughter so that she would have something fun, educational and personalized. She had dubbed it "Max-Ax" (a play on the words "math facts") after hearing the rules: Roll three dice; add, subtract, multiply and/or divide them together to make a new number; place a token on that number, a path of five tokens wins. I was inspired to make a beautiful design based on the hexagon. I'll write up the steps to make the board on my web page later on. I got to playtest the game with Laura to test the rules and see how many tokens in a path would work. The link shows the rough artwork for it.
As an aside, here's the finished art for the game board, with the help of my dear friend's daughter, a week later.
We went to a restaurant called the Roaring 20's. It had great pizza and wings.
The notable thing is the Mighty Wurlitzer showcased at the restaurant. I'm going into details about it hear because it was an exciting find! It is a pipe organ with many additional instruments and effects. A pianist played music on it all night and it was so fun watching the machine operate as well as listen to familiar tunes. Especially engaging was watching the dampeners, like venician blinds, above the pipes open and close, controlling the music's volume. There was a regular crowd there because the pianist knew some of the customers by name.
From their brochure:
During the silent film era, an Englishman, Robert Hope-Jones, who was an electrical engineer by trade, developed a method of "electrifying" the pipe organ. This allowed the console of the organ to be placed at any position away from the pipes themselves. Hope-Jones envisioned an orchestral organ capable of all the sounds and percussions of the modern orchestra. This was quite unlike the customary voicing of the church organ. Upon arriving in this country, Hop-Jones convinced a group of backers to finance his ideas and the "Unit Orchestra" was born. His original ideas and designs were more fully developed when he joined with the Wurlitzer Company of North Tonawanda, New York and the term, "Mighty Wurlitzer" became a household word.
The organ is powered by a 20 horsepower Spencer Blower which supplies air for the 3,000 organ pipes and percussions. Most of the percussions (chimes, xylophone, glockenspiel, chrysoglott, marimba, sleigh bells, piano, drums, traps and effects) are located outside the organ chambers. The volume of the organ is controlled by "shutters" above the glass pipe windows, which allow the sound to project into the restaurant.
Afterwards, we watched the movie UHF at Laura's apartment. We're both fans of Weird Al Yankovic's humorous songs, and it was fun to watch the newly released DVD of his 1989 movie.
Friday
We headed off to Busch Gardens to ride roller coasters. They only have three of note, and one was closed. We rode a wonderful wooden roller coaster and a thrilling inverted roller coaster which is pictured in the link. (But the best roller coaster is the inverted roller coaster, Rapter, at Cedar Point -- it's so silky smooth, you'd never know you're on a thrill ride.)
There are also zoo animals at the park, like this funky looking bird. [My friend, Maggie, says this is a "spoonbill."]
And look! My company, Motorola, sponsors a ride there.
Afterwards, we went to Adventure Island water park. There, I was in heaven on my favorite lazy river -- just lounge in an inner tube and drift on the water.
Straight from there, Laura and I went swing dancing. They had lessons for an hour then everyone danced. I gave it a shot every other dance. I needed a break to get my nerve up between each dance. The picture is of Laura after we changed at the water park -- she wore a dress and put on some makeup.
After the dance, we went to have a late dinner at Steaks and Shakes -- isn't that a wonderful combination! I ended up having a patty melt with beans and fries, though they had a good selection of side orders. Laura had a sundae and a shake -- indulgent!
Then, we went back to Laura's apartment and watch Superman on DVD, for nostalgia's sake.
Saturday
We went to the Ringling Museum. Apparently, John Ringling made huge amounts of money in the circus business, and collected art for his museum. This is a legacy he wanted to leave behind. His mansion, C' da'Zan, was recently reopened after being closed for a three year period for restoration. It's all very impressive. Maybe picture will speak better than words.
This is my favorite still life at the museum.
This is the courtyard of the museum.
This is the mansion, the side facing the gulf.
This is the view of the gulf.
We went to Siesta Key Beach. This is the most beautiful beach in the world, because the sand is all white, warm and powdery and feels good massaging my bare feet (unlike the coarse, hot, miserable sand up north. Even better than St. Petersburg which has the sand, but littered with pointy seashells!) Also, there's the warm gulf water and spectacular sunsets. How fun to walk along the long beach like this.
In the evening, we went to St. Armand's Circle. It's an upscale, tourist area.
Of note is Kilian's where we got some ice cream. They make fudge right before your eyes. It was interesting to watch the gentleman prepare a log of fudge by first meading it repetitively until it hardened enough to take shape and slice up for sale.
We went to the nearby beach for a late night walk. The sand was a little coarse, but it was pleasant to be able to go out for a walk like that in the middle of the night.
Sunday
We went downtown to Main Street Books. It's a wonderful bookstore with character. A good selection of old and new books to browse, and resident cats to keep company. We were there only a short while because I had to catch my plane back. That was a shame, because I could spend most of a day just browsing books.
Overall, this was a fun trip. Laura made sure we were busy the whole time, and it was nice to slow down at the beach and the water park. I'll keep dreaming of Siesta Beach.
---
Contents by Vitas Povilaitis
email to vitas@Grace fulBoot.com